CFL Playoffs start on Saturday, November 4, 2023. This content will share how to watch the CFL Playoff games live stream online, TV Schedule and Channel list, and provide you with the necessary resources.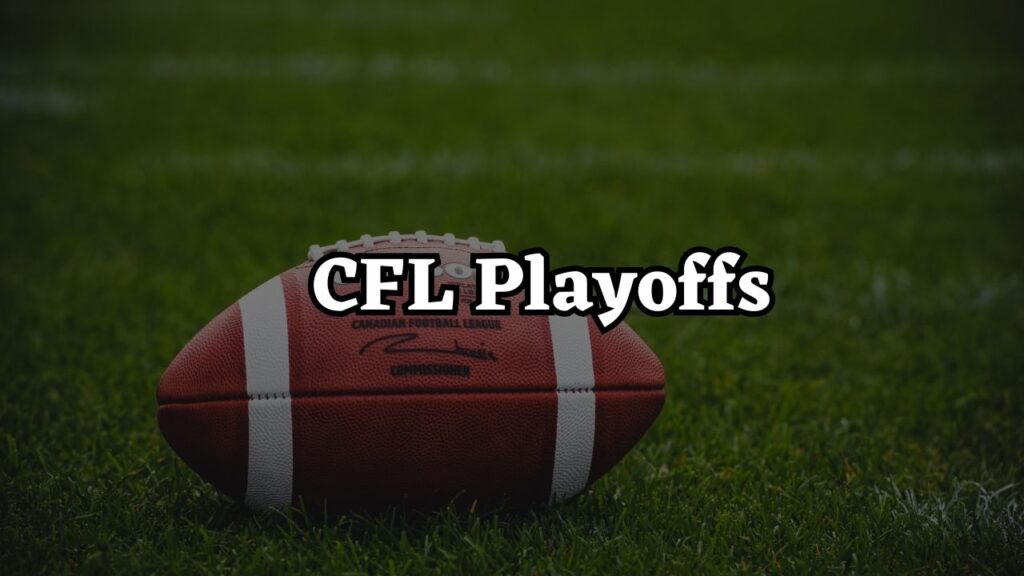 Which Channel will Broadcast CFL Playoff Games?
CFL Playoffs and all CFL games are available on TSN, RDS and CFL+. Mobile Phone users can also stream CFL Playoff Games on the go. Using TSN+ App and Visit CFL+ website.
For Viewers in Canada: TSN and RDS
For Viewers in the US: CFL+
Global viewers: CFL+
CFL Playoff TV Schedule
| EVENT | DATE | MATCHUP | TIME (ET) | TV CHANNEL | VENUE |
| --- | --- | --- | --- | --- | --- |
| Eastern Semi-Final | Saturday, Nov 4, 2023 | TBA at TBA | 3:00 pm ET | TSN/CFL+ | TBD |
| Western Semi-Final | Saturday, Nov 4, 2023 | TBA at TBA | 6:30 pm ET | TSN/CFL+ | TBD |
| Eastern Final | Saturday, Nov 11, 2023 | TBA at TBA | 3:00 pm ET | TSN/CFL+ | TBD |
| Western Final | Saturday, Nov 11, 2023 | TBA at TBA | 6:30 pm ET | TSN/CFL+ | TBD |
| 110th Grey Cup | Sunday, Nov 19, 2023 | TBA vs TBA | 6:00 pm ET | TSN/CFL+ | Tim Hortons Field |
Also Check:
How to Watch CFL Playoff Live Stream in Canada?
TSN is the only option for viewers in Canada. If you've subscribed to the particular option, you will be great.
To access TSN, do the following steps:
For the most recent content, visit the TSN website's "Live" section.
For the video, use the "Play" option.
There are several television service providers available.
Connect to your television provider.
Finished!
France language viewers can watch CFL Playoff Games with RDS. Following the same process of visiting the "En Direct" option of the RDS official website.
Mobile phone users can watch using TSN and RDS apps.
No problem if you do not have a cable connection or are a cord cutter. You can watch CFL Playoffs by Subscribing to TSN live stream service (TSN Direct). Its monthly plan price is $19.99, and its yearly plan is $199.90.
How to Watch CFL Playoff Live Stream in the USA?
You can watch the CFL Playoff live stream for free on CFL+. CFL Plus is the new way for U.S. and international audiences to stream CFL games!
According to the new broadcasting agreement, CBS Sports Network in the United States will exclusively carry 34 games, which do not include the Playoffs. The remaining 47 regular season games, Playoffs, and the 110th Grey Cup championship will be broadcast on CFL+.
So, CFL+ is the way to watch CFL Playoff Games in 2023. It's completely free and available on desktop and mobile devices, with no additional downloads or login services required.
How to Watch CFL Playoff 2023 Online Outside of North America?
Worldwide CFL fans, except those in North America, can watch the entirety of the 2023 season via CFL+. CFL Plus is the only way to stream CFL playoff games. International CFL fans don't need to spend a single buck, and no login details are required to watch the CFL Playoffs in 2023.
Simply sign up with your first name, last name, and email address to access in-season games. You will not be asked to log in again, as long as you continue to watch on the same device.
Way to Watch CFL Playoffs Online: If you are outside of your country?
In Canada, TSN and RDS provide live streaming access via their official websites' LIVE/En Direct menu. However, if you have a subscription and are currently outside your country, you may encounter geo-restriction problems.
In such cases, a reliable VPN service can help you bypass these issues. We recommend ExpressVPN. Out of several VPN service providers we've tried, ExpressVPN is our top pick.
Subscribe to their service, then download and install the app on your devices. Once connected, ensure your server location is set to Canada. You're all set! Now you can go to your live streaming package and enjoy HD quality streaming from anywhere.
I hope you haven't any problem watching CFL Playoff Games live stream online. Thanks